2014年 04月 30日
カナダのポップ歌手ジャスティン・ビーバー(Justin Bieber)が、靖国神社を訪れ、ごく自然に手を合わせたことに、中国と韓国の「ファン」が条件反射的に激怒し、ビーバーはツイッターからの写真削除に追い込まれたという。
中共の組織的な反日教育と、韓国のどこまでも愚かな恨日ファッションが、国際的なポップ・カルチャーの世界をも醜く攪乱しているようだ。
韓国・中央日報、英国インディペンデントの記事、および問題の写真2葉を下に掲げておく。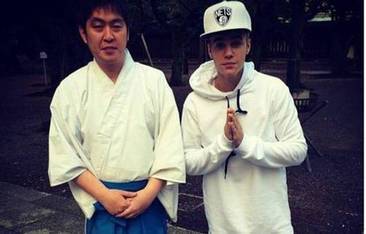 中央日報(韓国)日本語版
ポップ歌手ジャスティン・ビーバー、靖国神社を参拝
2014年04月24日
   ポップスターのジャスティン・ビーバー(20)が太平洋戦争A級戦犯を合祀した日本の靖国神社を参拝して論議を呼んでいる。
  ビーバーは23日、自身のSNSに神社の前で頭を下げながら参拝している写真を掲載した。世界のネットユーザーから非難の声が殺到すると、写真を削除する代わりに神官と思われる男性のそばで合掌する別の写真を掲載した。
  ビーバーは「単に祈る場所だけかと思っていた。気分を害した方々にとても申し訳ない。私は中国と日本を愛している」という謝罪コメントを載せた。
  現在、2つの写真はすべて削除されている。
The Independent
Wednesday 30 April 2014
Justin Bieber apologises for visiting Yasukuni Shrine in Japan: Site at centre of international row honours convicted WWII war criminals
By Jenn Selby
It was only a matter of time before Justin Bieber managed to ignite a minor diplomatic incident in Asia.
So many were only mildly surprised to learn that the singer had issued an apology, after coming under heavy fire from Chinese and South Korean fans for visiting a Tokyo shrine at the centre of an international row over Japanese wartime aggression.
Of course no-one would have known about his controversial trip, had he not posted photographic evidence of himself at the site in question up on his Instagram account, which currently has an audience of over 15million.
"Thank you for your blessings," read the caption.
Unfortunately for Bieber, Yasukuni was not in fact "only a place of prayer", as he claims to have mistaken all shrines in existence for, by way of apologising for asking his driver to stop at it so he could have a look around.
The shrine actually honours 14 late Japanese leaders, who were convicted of war crimes after the Second World War, as well as scores of Japanese soldiers who died during the conflict.
"To anyone I have offended I am extremely sorry," he wrote on his Instagram profile. "I love you China and I love you Japan."
His posts were particularly poorly timed, because they came just days after 150 Japanese politicians visited the shrines for its annual spring festival.
Chinese officials have previously compared such visits to German politicians laying flowers on Hitler's bunker.
 "I don't know the political stance of this Canadian singer, but China's view on Japanese leaders visiting the Yasukuni Shrine is clear and consistent," Chinese Foreign Ministry spokesperson Qin Gang told the South China Morning Post.
"I hope this singer can learn more about the history of Japanese militarism, and the wrongful historical and militaristic views promoted by the shrine after the visit."
His Twitter feed was promptly flooded with tweets from angry Chinese and South Korean fans, some of which called for the pop star to banned from performing in their home countries, while others demanded he be "run out of Asia" permanently.
This isn't the first time Bieber has stumbled over a fairly obvious cultural hurdle.
Last April, he sparked outrage on a visit to the Anne Frank Museum in Amsterdam, where he wrote in the guestbook that the famed diary writer would have been a fan of his work… Had she not been a victim of the Holocaust.
"Truly inspiring to be able to come here," he penned in tribute. "Anne was a great girl. Hopefully she would have been a Belieber."
He was also deemed disrespectful by Chinese fans in October last year, when a video of him being carried across the Great Wall of China by his body guards surfaced online.